Wedge Point 27, Classic Cruising Launch
Similar Designs
Classic Launch

Trailerable Power Cruiser

Sail-Assisted Powerboats

Small Motorsailers
About the Plans

Construction Method and Materials:

Plywood planking over wide spaced plywood bulkheads. Stringers of solid timber and plywood. Laminated wooden folding a-frame mast. Honeycomb core fiberglass cockpit roof.

Number and Type of Drawings:

Lines and Offsets,
Full Size Stem Pattern,
Dimensioned Bulkhead Layouts,
General Arrangement,
General Construction,
Spars and Sail Plan.

Price:
Design Comments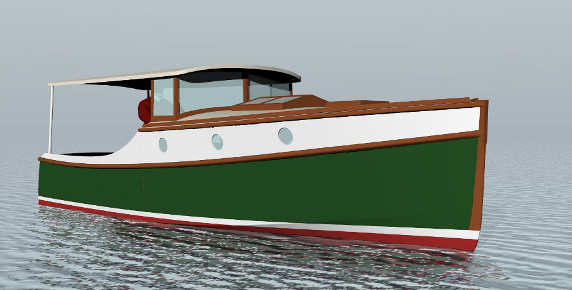 This boat is related to my 15 year old design Yellow Cedar. Over the years we've had far more inquiries about that boat than any other. But she's large at 38' by 10', and a bit slow by most standards at 7.5 knots. So I've created the Wedge Point as a smaller, faster, easier to build version of the 1920's Lake Union "Dreamboat".

Aimed at a cruising speed of 10 knots with only a 25HP outboard, she will have to be kept light to do this. Target displacement in cruising trim is less than 4000 pounds. Her vee bottom and slightly immersed hard chine provide best speed and stability for a boat of these dimensions. Entry is fine for minimum resistance at speed. The outboard is installed in a well which can be closed so the engine completely disappears, or it can be open for access and tilting up.

The sail assist is another feature which has been requested more and more. As the price of fuel climbs small sails start to make sense. The tricky part is to not overload the boat with rig weight and windage or ballast weight. This rig with it's light wishbone mast will fold down easily onto the foredeck. The sails are really small and easy to handle, and the rig is low to minimize heeling. Note there is provision for an auxiliary rudder to provide steerage under sail alone. Reaching and running will be best points of sail with this rig but she will work slowly to windward under sail. Best is to motorsail upwind with the engine at a high idle, but you need patience and be willing to let the wind dictate your allowed course.

The accommodations are what I call 2+2, a double or two singles below and also in the huge cockpit. A folding table can be used in either area. There is a tiny separate head and galley counter below as well.