Enavigo 39 Classic Motor Yacht
Enavigo 39 Classic Motor Yacht
About the Builders - Enavigo Yachts
Enavigo Yachts combine classical design features with high-spec modern equipment to build boats that boast more than the usual range of features. Using the latest production technologies we offer well-made, seaworthy and aesthetically pleasing wooden boats that stand apart from vessels crafted with today's more modern materials.
Enavigo Yachts
email
:
info@enavigo-yachts.com
web site: http://www.enavigo-yachts.com
Enavigo Ltd
address
:
Vinkovačka cesta 21a
33000 Virovitica
Croatia
Similar Designs
Classic Launch

Express

Lobsteryachts

"Downeast" Cruiser
Designer's Comments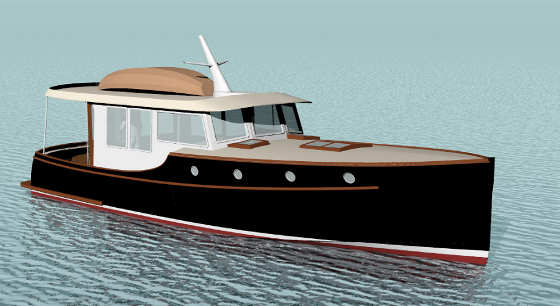 The new Power 39 for Enavigo Yachts is a development of my Yellow Cedar design from 1997. Major requirements for the design are: cold-molded wood construction to the highest standards; accommodations for 4-6 people with good privacy; 15 knot cruising speed; and ISO Category B certification for coastwise and inland cruising.

The Yellow Cedar was a modern adaptation of 1930's era Pacific Northwest cruisers commonly known as "Dreamboats". These boats all shared a typical arrangement including the raised foredeck with sleeping accommodation, deckhouse with large windows all around over the engine space, and the covered aft cockpit. Dreamboats were rather narrow and round-bottomed, with a maximum speed of 8 knots using the low powered engines of their day. In adapting the Dreamboat to modern use I have increased the beam and with the P 39 added a hard chine-vee bottom hull form for better initial stability and excellent performance at higher speed.

At her half-load displacement of 8300Kg the P39 will cruise at 10 knots using approximately 16 litres of fuel per hour. At this speed she will have a comfortable range of 830 kilometers with a 20% fuel reserve. At 14 knots the range drops to 630 kilometers.

Construction of the P39 utilizes multiple planking layers on a combination transverse and longitudinal laminated mahogany frame. The entire structure is laminated with epoxy using modern engineering with traditional craftsmanship and detail. This creates a vessel that appears and feels like a traditional wooden yacht, yet the wood is all sealed and joined to eliminate the possibility of maintenance issues or deterioration.

The arrangement of the P39, starting from the bow; furthest forward is a large storage locker for anchor chain and deck gear. Next aft is the full-width owner's cabin with double berth on centerline and lockers port and starboard. Overhead is a opening "butterfly" skylight and there are opening cast bronze portlights P&S. The passage aft from the owner's cabin to the deckhouse has sliding doors port and starboard. On the port side is a single roomy head with separate shower stall. On the starboard side is a guest sleeping cabin with upper and lower berths as well as hanging locker and storage drawers. Both the head and the guest cabin have opening hatch/skylights and portlights for ventilation and light. Three steps up bring us to the deckhouse living area with large opening windows all around. The forward end of the deckhouse is the helm and navigation center of the ship. There are raised seats here for helmsperson and navigator, when not underway the navigator's seat converts to an additional dining seat. Also there is a large slide-out desk at the nav. station forward. The in-line galley is aft on the starboard side, and opposite is the dining area which converts to a double berth.

Out the deckhouse door is the covered aft deck area with additional seating and a removable table. Storage space below this deck is accessed via a watertight hatch is the aft seat. The rooftop provides plenty of space for dinghy and kayak storage as well as space for photovoltaic solar panels. Furthest aft is the arched wooden swim-grid, accessed through a flush transom door.

Ruggedly built, with grace and elegance from an earlier era as well as modern construction, performance, and equipment, the Power 39 is a modern yacht in the classical style.