Yellow Cedar, 38' Classic Motor Yacht
About the Plans
Construction Method and Materials:

Cold-molded and foam cored construction

Number and Type of Drawings:

Available plans include one dozen (12) hand drawings covering cold-molded and foam cored construction, with several interior arrangements. Drawings are available in pdf form to be emailed as soon as we receive your payment. No full size plots at this time though they could be arranged at separate cost.
Similar Designs
Classic Launch

Express

Lobsteryachts

"Downeast" Cruiser
Designer's Comments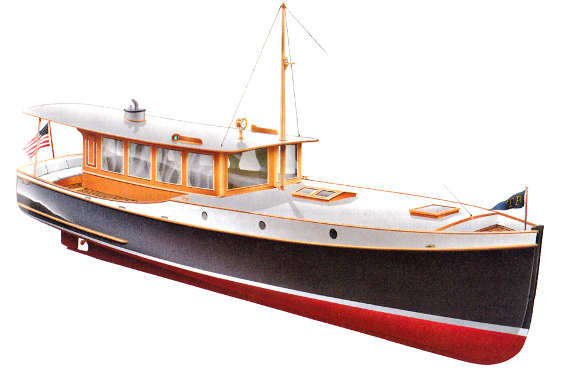 First published in Wooden Boat, Number 137, August 1997. Republished in WoodenBoat's MotorBoats Magazine, Special Issue/Anthology on Power Boats, Summer 2012. From the article:

Yellow Cedar is a minimum powered cruiser seemingly escaped from an earlier time. But for this type of boat the vertical stem and stern are functional and not a retro styling attempt. In her role as a liveaboard home for a retired couple the vertical ends provide the most interior space for her length, because livable volume is dependant on waterline length. Yes, she would look lovely with a fantail stern or maybe double-ended. But that would ruin the roomy cockpit/backporch that the wide transom provides, it will also pick up buoyancy quickly as it sinks, limiting trim problems.

Long, light boats are easy to push; with proper hullform easy to push fast, or in this case easy to push at moderate speed with very little power. Though possibly a candidate for a hybrid electric/diesel generator drive, I've stuck to the conventional and drawn in a Perkins M30 that produces 28 HP at 3600 RPM. But what about our 500 lbs per horsepower, doesn't Yellow Cedar, weighing 15000 lbs, need 30 HP? Yellow Cedar is a minimum power cruiser with a very light D/L, and if we back off the speed a little things look pretty good. For a S/L of 1.2 or 7.5 knots we only need 21 HP, which is 2200 RPM on the engine. Or if we drop down to a S/L of 1.1 or 6.8 knots, we only need 16.5 HP, which is about 1900 RPM, ideal cruising speed with fuel consumption of about .9 Gal/Hr.

In 1928 Yellow Cedar would have been equipped with a 8 HP four cycle, gasoline marine engine. "Those old engines produced real horses, not the ponies we get from these new things" is a statement often heard around the docks. The answer is the law of torque (twisting power). Torque = 5252 / HP RPM

Maximum RPM for the old 8 HP engine was 600, producing 70 lb ft of torque. The modern engine puts out 28 SHP at 3600 RPM, 40 lb ft of torque. But we fit a reduction gear of 2.4:1 and get a maximum of 98 lb ft of torque. This will turn a 16" by 13" three bladed propeller. The old engine was direct drive with no reduction gear, and turned a 18" by 13" two bladed prop. This would give Yellow Cedar a speed of about 7 knots in calm water, with no reserve power for adverse tide or weather. It was a different time, old timers spent many hours hiding behind a point waiting for the tide to turn or the wind to go down.