42' Steel Halibut Ketch
About the Plans
Construction Method and Materials:

Steel multi-chine construction.

Number and Type of Drawings:

Drawings are CAD, Lines, general construction, sail and rigging plan, general arrangement. Full-size plots. NC cutting files.
Study Plan: General Arrangement PDF
Study Plan: Sail Plan PDF
Study Plan: Halibut 42 Motorsailers PDF





Halibut 42 Motorsailers Press
Similar Designs
Traditional Motorsailer

Sail-Assisted Powerboats

Working Schooners, 36' to 80'
Extended Comments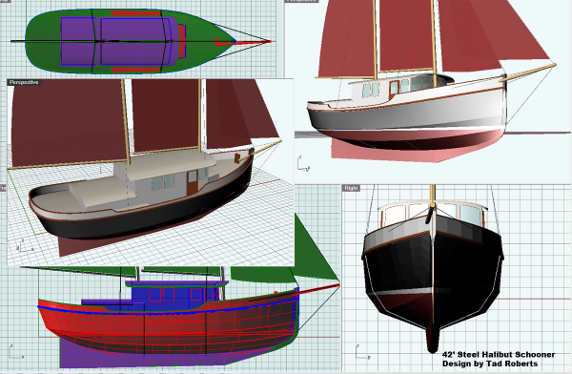 My 42' design is modeled closely on the larger (65'-80') heavy displacement commercial fishing "schooners" which have been chasing halibut in the North Pacific for the last 100 years or so.......They are referred to as schooners though they've actually been powerboats almost forever.....In the North Pacific fisheries schooner implies an aft wheelhouse with hauling station forward, just at the break of the foredeck. They also typically have two short masts in schooner configuration, though they set a single small jib (no bowsprit) a gaff foresail, and a main trysail usually left up.......

This 42' is very like these old schooners in hull form though she is slightly less burdensome and carries a bit more ballast.....Typically the old wooden boats would have bilges full of cement and little or no outside ballast. This keeps the VCG fairly high, though loaded with ice and fish that changed. So our new version is all steel, to keep VCG high and motion slow and comfortable. A hull of moderate beam, with vertical stem and round stern is closely modeled on the old Scandinavian influenced designs.

The usual BC North Coast harbour (those in Alaska as well) are crowded government wharves where everybody rafts 3 deep. Of course boats are coming and going all the time.....this requires good all around decks, big bitts fore and aft, and a tough boat.......Being able to duck in and out of the pilothouse doesn't hurt (cause it's always raining), plus having a comfortable seat/berth right there out of the weather but with windows all around to keep an eye on things......

I did intend there to be a footwell and outside helm on the aft deck, for fishing and sailing........

I recently revised this design with a switch to ketch rig and an outside control position on top of the aft cabin. I also eliminated the bowsprit to simplify things. This rig has an area of 625 sq. ft in three sails. This is less area than the 1045 sq ft in the original schooner, and reflects lower expectations under sail. With the ketch rig she becomes a power boat that can sail, while the schooner rig enables sailing and powering in equal measure. Some folks felt intimidated by the unusual schooner rig, I think if they tried it they would find it straightforward and versatile.