Garden Bay 23, Trailerable Motorboat with Sails
Similar Designs
Small Motorsailers

Trailerable Power Cruiser

Sail-Assisted Powerboats
About the Plans

Construction Method and Materials:

Strip cedar planking or foam sheathed with fiberglass over permanent plywood bulkheads fillet and taped to the skin. Deck and house is plywood. Keel is laminated Douglas Fir.

Number and Type of Drawings:

Full Size Bulkhead Patterns,
Lines and Offsets,
General Arrangement,
Construction Sections,
Deck lines,
General Construction,
Construction Details,
Stern Gear.

Price:
Design Comments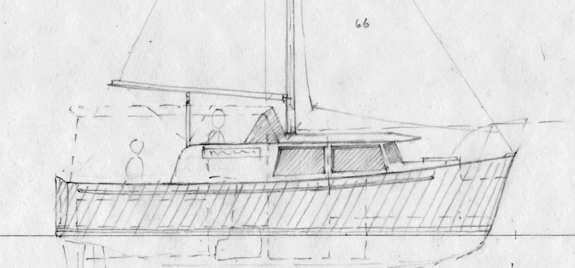 Garden Bay 23. A small full displacement, easily trailerable motor boat with a sailing option and accommodation for 5 overnight was the criteria for this little cruiser. A stand-up head, decent galley area, and an inside dinette which makes down into a double berth are also included in the accommodation. Her 10' long open cockpit has plenty of space for fishing, sailing, etc, and transom door gives direct water access. The 16' mast is mounted in a tabernacle and folds down forward for trailering.
Many are curious as to the effectiveness of such small sails? They really work and do provide "get home" power, aid fuel efficiency, and damp out rolling in a sea. The usefulness of a tiny rig is underestimated. Sailing performance as reported by the owner of my Timbercoast 22 design (hull #1):
"Sailing performance:  She will do 2.5 knots in 10 knots breeze on a beam reach, about 3 knots in 12 knots, and 4 knots in 15 knots of wind.  She will also point upwind at about 60 degrees to true wind angle."
That's with an 84 square foot sail plan and displacement of about 4000 pounds. With 122 square feet of sail and a longer waterline than the TimberCoast 22, the Garden Bay 23 will be slightly faster.