Khutze 26
Similar Designs
Small Motorsailers

Sail-Assisted Powerboats

Traditional Motorsailer
About the Plans
Construction Method and Materials:

Multi-chine plywood planking built over plywood bulkheads.  Plywood deck and house.

Number and Type of Drawings:

Sail Plan, Spar Plan, Lines and Offsets, Dimensioned Bulkhead drawings, General Construction, Construction Details, Arrangement and Deck Plan, Centerboard and Rudder, Ballast Plan.
Comments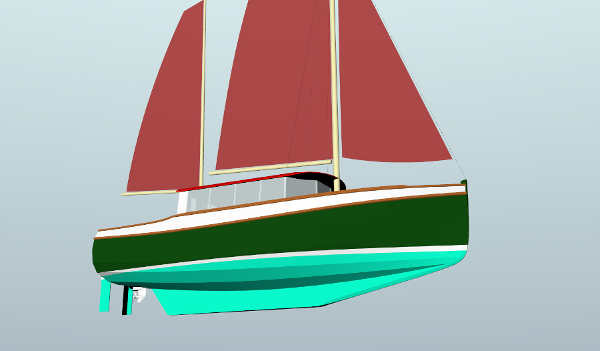 A coastwise cruiser designed to be safe on open water passages such as crossing the Sea of Cortez or Florida to the Bahamas. The boat is trailerable behind a larger half-ton or most ¾ ton pickups. Height from the bottom of the keel to the top of the pilothouse is 8'6". Masts are 27'6" and 22' tapered aluminum light poles mounted above deck in tabernacles. The boat is multi-chine plywood planking built over plywood bulkheads. The outboard is mounted in a well on centerline in the cockpit. Twin rudders allow the motor to tip up while sailing or to clear the propeller. The cockpit is a large space, almost 8' wide and 7' long, with storage lockers under both seats. A simple sliding door gives access to the interior; the deckhouse has 6'4" headroom.

The interior is large enough for a number of layouts, berths for four, a full headroom private head, at least one double berth, small galley area, dining table, and inside helm are possible.