Dean 345 Motorsailer, 34'5" Traditional Aluminum Ketch
About the Plans
Construction Method and Materials:

Number and Type of Drawings:

Study Plan:

General Arrangement PDF

Study Plan:

Sail Plan PDF

Design Comments:

Design Comments

Base Price:

$ CAD
Similar Designs
Traditional Motorsailer

Sail-Assisted Powerboats
Extended Comments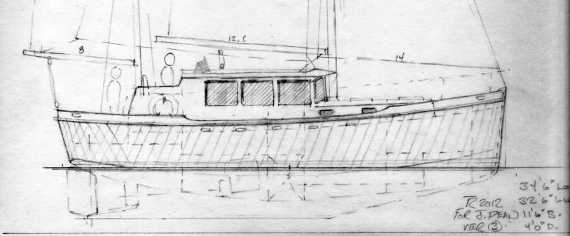 A minimum coastwise cruiser able to cover long open water passages including Puget Sound north to Alaska or south to Panama and the Caribbean. Intended for a crew of two with occasional guests.

The hull form; a single chine round stern with deep vee sections, is a further development of our commercial troller and Bartender Timbercoast designs. These boats all share moderate beam and deeper sections for comfort in a sea as well as excellent stability characteristics. The shallow keel of foil section and balanced rudder will improve sailing ability and control in a seaway.

Accommodation is simple and roomy with the owner's cabin forward and a single head with galley opposite below. The deckhouse includes seating P&S around a large table, and the inside helm position. Aft of the house is a raised outside helm with additional outside seating aft.