About Tad Roberts
Designer History
Upcoming 2014/09/17: I have an upcoming article on stability in the September issue of Western Mariner magazine: "Launching Calculations and the Baiden Capsize".

A February 2012 interview at boatbits.blogspot.com/nrc, with an interest in designer history.

Spend one week (6 days) with an experienced yacht designer in a student driven program to design a boat, revise your current boat, or learn more about design in an intensive, one-on-one environment. Two main programs are offered, focusing on either sail or powerboat design. Both hand drawing and computer design using AutoCAD (2D), Rhinoceros (3D), and FreeShip (Hull design and hydrostatics) will be taught. Learn more >>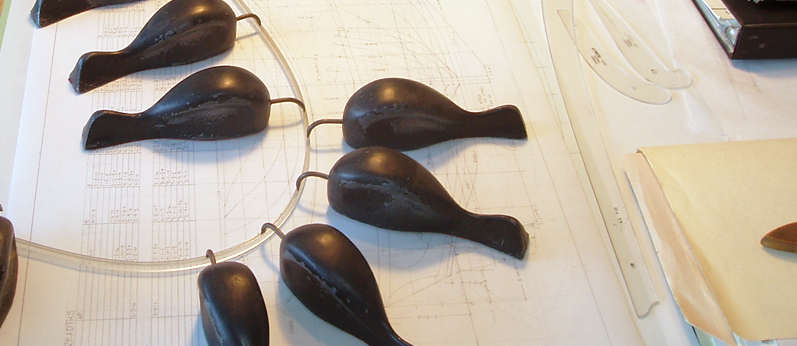 Growing up in a family of boatbuilders, architect/builders, artists, and sailors, it was only natural that I should start drawing boats at a young age. After a decade working on tugs and fishboats, and cruising and racing sailboats, I began professional practice 28 years ago in 1984 in Victoria, BC.
In 1986 I joined the office of BKYD. Over the next 14 years I became principal designer; working on a diverse range of projects including the creation of large custom sailing yachts Sophie, Alejandra, Hetairos, Antonisa, Cecile Marie, and Scheherazade. I also successfully widened the practice to include powerboats, which BKYD had not previously produced. Under my direction, the design office produced several spectacular successes including Liberty, the Talaria 40 and Talaria 44, and the Hinckley Picnic Boat. A number of these yachts became design icons, with the Picnic Boat being judged by Yachting Magazine as one of the 10 Best Boats of All Time.
In 2001 I returned to coastal BC and opened my own studio on Gabriola Island. Here I have continued to develop modern boats; both power and sail, with strong ties to traditional styling values. Projects include: Express 92, Philbrook's Express 58 and 47 cruisers, motor yachts Memory 38 and 44, Christensen 48, 55, and 78: lobsteryachts White Pine 38 and Johns Bay Boat 40 and 32; Passagemaker Lite 39, 41, 46, 56, and 80; sailing yachts Ragsdale 36' twin-keel schooner, Wildcat 42' double-ended schooner, and Fin De Siecle 108' cutter; plus many small boats ranging from 12' to 29.5'.
In addition to designing boats, here on Gabriola I organised and led the Shipyard Raid, an annual seven-to-eight day staged race for sail and oar boats on the BC coast, from 2005 to 2009; I was a director at the Silva Bay Shipyard School from 2001 to 2009; I co-organised and participated in the Wooden Boat and Maritime Talks, an annual series of lectures from 2008 to 2011. I continue to co-sponsor the Friends of Silva Bay web site.
At present, I'm working on a new project, Documenting Historic BC Boats, which includes a book and a web site, to help preserve our BC maritime heritage.
I keep an active blog, updated weekly , where you can read my current thoughts about yacht design, boats, and maritime concerns and events. I also post at boatdesign.net, the Woodenboat Forum, and Sailing Anarchy.
As required, I work closely with my colleagues in B.C. at CR Engineering, Jeff King, P.Eng, among others, internationally.