Pogy 17 Motorsailer
Similar Designs
Small Motorsailers

Sail-Assisted Powerboats

Exploration Ketches

Pogies
About the Plans
Construction Method and Materials:

Designed for wooden lapstrake plywood with fibreglass sheathing construction.

Number and Type of Drawings:

Four sheets. Full size plots (e-mail or CD) for bulkheads, stem and transom, plus pdf building plans.

Sail Plan:

Comprises sail, rigging and appendage plan.

Study Plan:

Pogymotorsailer PDF
Designer's Comments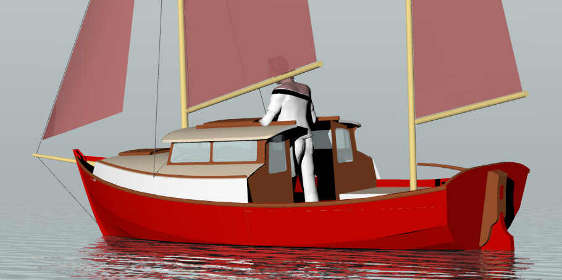 The Pogy 17' Motorsailer is intended as a minimum coastal cruiser for one or two people.  Main features of the design are trailerability behind smaller cars, seaworthiness, decent accommodation including sitting space inside, and ease of construction by amateurs.

 She also includes versatile means of propulsion including a split sailing rig, oars, and an outboard. The required engine is very small, 2HP will be enough. 

 Her heavy steel centerboard will make the boat forgiving while sailing coastwise yet with the board raised she draws 10" of water for ease of loading on a trailer or visiting shallow creeks and beaches.

Construction is mostly plywood, with the hull and decks built up over ply backbone and bulkheads.