Pogy, 12' Standing Lug
Similar Designs
About the Builders - Barefoot Wooden Boats
Barefoot Wooden Boats is a team of talented boatbuilders who specialize in small boat construction and restoration. For more information, please contact:
Quill
Goldman
email
:
barefootwoodenboats@shaw.ca
web site:
www.barefootwoodenboats.ca
address
:
2925 North Road
Gabriola Island
British Columbia
V0R 1X7
Canada
Tad is a pleasure to work with, and his amazing ability to combine all our contradictory ideas into beautiful and functional boats is a rare and valuable skill.
Richard Lyons and Quill Goldman, 2004
Designer's Comments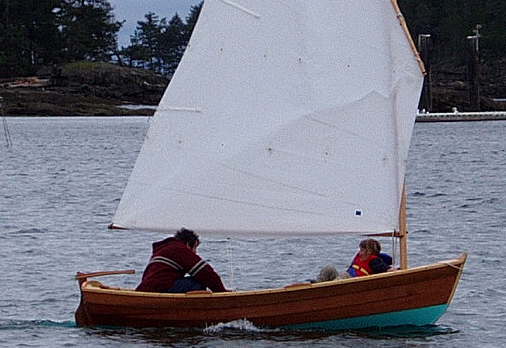 Barefoot Wooden Boats' commission in 2004 was for a sailing dinghy with good rowing qualities for two people. The fourth Pogy was launched April 2006; according to their builders, the pogies have "lived up to all expectations and exceeded some".