Barefoot 517 Raid Boat
Similar Designs
About the Builders - Barefoot Wooden Boats
Barefoot Wooden Boats is a team of talented boatbuilders who specialize in small boat construction and restoration. For more information, please contact:
Quill
Goldman
email
:
barefootwoodenboats@shaw.ca
web site:
www.barefootwoodenboats.ca
address
:
2925 North Road
Gabriola Island
British Columbia
V0R 1X7
Canada
Tad is a pleasure to work with, and his amazing ability to combine all our contradictory ideas into beautiful and functional boats is a rare and valuable skill.
Richard Lyons and Quill Goldman, 2004
Designer's Comments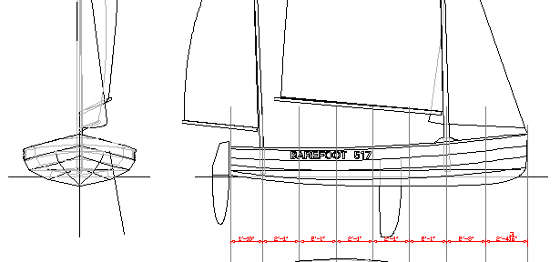 Intended as a rowing and sailing "Raid" competitor for Barefoot Wooden Boats.  Multi chine plywood construction over egg-crate style internal grid work with flush watertight sole above DWL.  Twin asymmetric daggerboards in slots with a single deep rudder.  Possibility of water ballast tanks under the sole but I don't really see the necessity unless one was family cruising or singlehanding.  She features a very narrow waterline at designed displacement, for great speed under oar power. Crew = 2-3 people.