Passagemaker Lite 80
PL 80 Stock Plans
Construction Method and Materials:

Multi-chine hull form

Full size plot files:

For hull station molds, bulkheads, deck and house beams, stem, etc.

CAD Drawings

of general construction, construction sections, tanks, deckhouse, profile and arrangement, shaft and rudder plan.
Similar Designs
Passagemaker Lite

Sail-Assisted Powerboats

Traditional Motorsailer
Extended Comments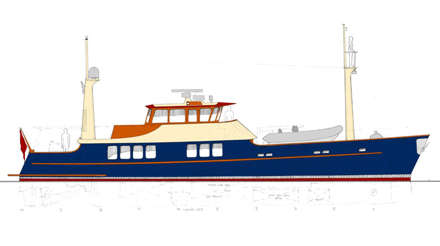 Arrangement aboard the Passagemaker Lite 80 is somewhat different than the PL 46 and 56 due to its greater size. In this case, I raised sole in the main living area to about 8" (203.2mm) above DWL to allow for extensive integral tankage below the waterline in the correct longitudinal position. The forward section of the boat is given over to staterooms with dinghy storage above. I moved the pilothouse from the foredeck to above the saloon to increase visibility from the helm. The 80 does have an aft engineroom similar to the PL 46 and 56.

The possibilities for ocean-crossing performance with the PL 80 are impressive. With a pair of 3306 Caterpillar engines producing a maximum 355 BHP, top speed is about 14.5 knots. At 12 knots, range is 3,400 miles (5,471.8 km). With good weather, a West Coast (U.S.)-to-Hawaii crossing could be made in less than eight days, and the 2,550 miles (4,103.8 km) from Bermuda to the Canary Islands can be completed in under nine.
Read articles by Tad Roberts about Passagemaker Lite:
Read more on the Passagemaker Lite web site:
Passagemaker Lite design series is Tad Roberts' modern, lightweight, fuel-efficient re-statement of the fast, seaworthy, long-range power cruiser. There are now two series, the orginal traditional one and a modern one, in lengths from 39' to 98'.

2012/04/06. In development, a ketch-rigged 60' aluminum Passagemaker Lite, 02 series.
Design Review
Art Paine, Maine Boats and Harbors,

Issue 76, Autumn 2003

There is nothing new to the idea of thin, light, seaworthy, and fast powerboats, and Tad Roberts has been inspired by several of those of the past. To Roberts, these boats brought to mind a glaring question: Why didn't the whole world flock to these sensible and efficient pleasure powerboat designs? He answered that question by identifying the elements that limited the type, and, in his Lite designs, addressed them. All in all, the Passagemaker Lite series is masterful work.