Passagemaker Lite 74
Passagemaker Lite Design Reviews:
Articles by Tad Roberts about Passagemaker Lite:
Passagemaker Lite Designs:
Read more on the Passagemaker Lite web site:
Passagemaker Lite design series is Tad Roberts' modern, lightweight, fuel-efficient re-statement of the fast, seaworthy, long-range power cruiser. There are now two series, the orginal traditional one and a modern one, in lengths from 39' to 98'.
Extended Comments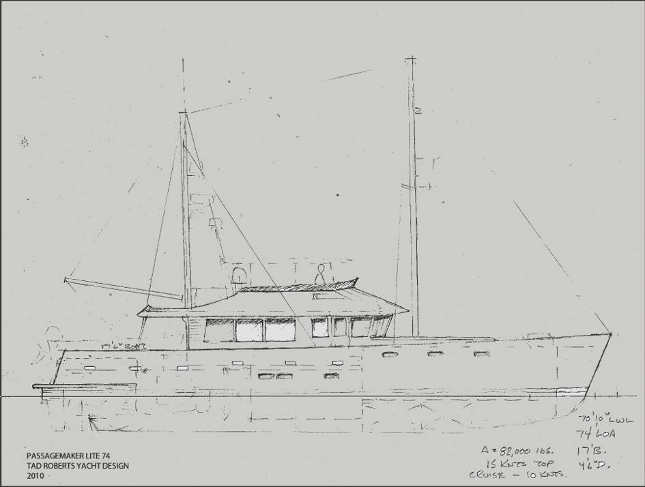 The ship is available in two exterior configurations, Flying Bridge and Low Profile. The Low Profile provides an air draft of less than 12' 0" (3.65m) for access to many European canals. Interior arrangements will be semi-custom but configuration allows a huge completely private owner's suite forward, with office, day head, and walk-in storage. Amidships under the pilothouse is space for twin guest cabins each with en-suite head. Galley and dining areas can be up or down.

Key areas of the arrangement are a full headroom engine room, and a huge storage garage accessed from the aft swim deck. There is also a large watertight storage room forward of the collision bulkhead, accessed from the foredeck. Storage for a 17' hard outboard skiff is arranged on the aft deck, with easy launching and retrieval over rollers (no crane required). Additional kayak storage is available on the rooftop or in the garage.

Stabilization options include active fins, fixed bilge keels, towed paravanes, and steadying/get home sails.

Preliminary price indications are that a single engine version can be built in Europe for approximately the same price as a Dashew FPB 64, about $2.5m.

In my first iteration of this concept I've been struggling (erring on the conservative side) to get the height needed to double deck in the pilothouse area. I now have a plan to reduce overall height by over 6", getting us below the critical 3.5m.....and the difference between half load and full load is 5.25".....this will be sorted out as we work through the detail design.

So when in canal mode perhaps the small boat moves to the foredeck, obscuring visibility from the pilothouse but you still have the upper control station........

My other thought was that with that great small boat, why take the big one into the tiny canals? The big dinghy can have a full weather enclosure, heat, full electronics, two outboards, even an electric outboard....she could easily support week long trips away from the mothership....you sleep in local BandB's beside the canal, eat in local restaurants, you minimize the disturbance of your passing in a small open boat....you gain many more local acquaintances while traveling in a humble open boat.......

On stabilizer fins.....See http://setsail.com/naiad-stabilizer-...and-questions/ Comments regarding shallow canal banks lead one to suggest that paravanes are the solution....except that some object to the possible work involved in deploying and recovering these. So what about retractable bilge boards?

I first published the first Passagemaker Lite concepts in 2002, 18 months before Dashew's Windhorse was first published.

One of my thoughts is that the Dashew boats (83 and 64) don't have very people friendly decks. A high flush deck provides good high-angle stability, but Dashew has learned (in 35,000 miles) that's not a huge issue. They may be normal for modern sailing types, but I know that the high bulwarks on Grand Banks boats sell boats to women (who often get deck duty). Wire lifelines and tiny little toerails don't do much for confidence on the deck. I really like the high bulwarks along the side decks, a solid roof overhead so windows and doors can be opened in any weather, and the well protected after deck. The only place to be outside on Windhorse is the Flying Bridge, which also seems unprotected with it's open front, low sides, and plex uppers.

Other differences are the swim step, Windhorse's is tiny and you can't step on to it from the dock, ours is full width of the boat (13' wide) and 30" fore and aft. And it opens to a huge storage garage, not two little lockers but a space full width of the boat, 10' fore and aft, and over 5' deep. That's one locker with 650 cubic feet of storage.....

The ability to carry a good big boat is also vital. The PL 74 can carry a 17' to 17'6" outboard boat on her afterdeck. Boats this big can have great range and take prolonged exploration or fishing trips away from the mothership. But boats this big are heavy, and get scary to load with cranes, so rollers and a winch are the way to go. Not having to tow this big boat everywhere will be worth the price of admission to me.