Passagemaker Lite 56
PL 56 Stock Plans
Construction Method and Materials:

Round bottom sheathed strip or cold-molded (3 layers) wood construction. Foam cored fiberglass construction option. Multi-chine aluminum plate constructionor aluminum construction.

Full size plot files:

For hull station molds, bulkheads, deck and house beams, stem, etc.

CAD drawings

of general construction, construction sections, tanks, deckhouse, profile and arrangement, shaft and rudder plan.
Similar Designs
Passagemaker Lite

Sail-Assisted Powerboats

Traditional Motorsailer
Design Review
Wooden Boat Issue 226, June 2012
---
Art Paine, Maine Boats and Harbors,

Issue 76, Autumn 2003

There is nothing new to the idea of thin, light, seaworthy, and fast powerboats, and Tad Roberts has been inspired by several of those of the past. To Roberts, these boats brought to mind a glaring question: Why didn't the whole world flock to these sensible and efficient pleasure powerboat designs? He answered that question by identifying the elements that limited the type, and, in his Lite designs, addressed them. All in all, the Passagemaker Lite series is masterful work.
Read articles by Tad Roberts about Passagemaker Lite:
Read more on the Passagemaker Lite web site:
Passagemaker Lite design series is Tad Roberts' modern, lightweight, fuel-efficient re-statement of the fast, seaworthy, long-range power cruiser. There are now two series, the orginal traditional one and a modern one, in lengths from 39' to 98'.

2012/04/06. In development, a ketch-rigged 60' aluminum Passagemaker Lite, 02 series.
Designer's Comments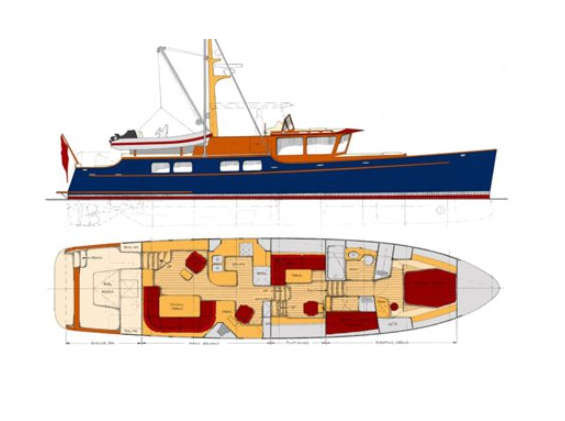 About the Passagemaker Lite 46 and 56 Interior, Deck, and Machinery Arrangements. From "Passagemaker Lite" (Professional Boatbuilder) PDF :

I've drawn Passagemaker Lite in lengths from 38' to 80' (11.6m to 24.4m), but let's focus on the PL 46 and 56. Common features for the boats include a forward pilothouse with an upper outside bridge aft over the main living area, which is low in the boat, with the cabin sole at approximately a foot (304.8mm) below the waterline, minimizing motion\u2014a welcome feature for the cook trying to work at sea. Another feature the boats have in common is the aft engineroom; there is no having to live around, or on top of, engines. The main machinery is completely isolated by a full-height watertight bulkhead. Fire, flood, noise, heat, and vibration all are kept apart from the living quarters. We rely on video equipment and alarm systems to continuously monitor the machinery. Access is down a ladder from the afterdeck, but a watertight door/window could be installed from the main saloon to the engine space.

Interior arrangements for the 46 and 56 include the single head and sleeping cabins forward. These accommodations are intended for a couple to live aboard long-term, with occasional guests or crew on board for passages. During a passage, the off-watch will sleep on the seat in the wheelhouse or in the saloon aft. Coastal cruising or at anchor, the owner\u2019s cabin forward provides privacy from guests sleeping aft.

The deck layout of these two boats is very similar, differing only in the size of particular areas. Boarding is from the stern, via a swim step and up a few stairs to the after well-deck. Here, there is seating on the engineroom trunk, which opens to provide full access to the engine area. You can change out or rebuild an engine or generator without disturbing the liveaboards. From the well-deck, there are stairs starboard up to the boat or bridge deck, and port down into the saloon. The boat deck stretches from rail to rail, with room to store a good-sized hard-bottom inflatable. At the forward end is a mast with boom to handle the dinghy, along with stabilizer poles port and starboard.

The bridge deck is forward of the boat-storage area on both the 46 and 56, and holds the outside controls, seating, and dining area, sheltered from the elements by a windshield and canvas soft top. The enclosing half walls have sliding gates port and starboard; access to the wheelhouse is down a sliding hatch to starboard. What's important about this setup is that the helmsman is only a couple of steps away from line handling when docking the boat. All the way forward is another well deck, this one for safety while handling ground tackle.

Moving the machinery aft shortens shaft runs and minimizes noise and vibration in the living areas of the boat. It also frees up space under the wheelhouse and saloon to place tankage directly over the center of flotation. This means trim changes little as the fuel burns and water gets consumed. Fuel and water loads are the largest single weight aboard these boats, so centralizing and keeping it low, again, reduces pitching and rolling moments.

Why twin engines? Unquestionably, a bigger engine with a single large-diameter propeller would be more efficient. But, a single large prop would mean more draft, even with a propeller pocket. The two here are in pockets behind substantial skegs, which will protect them and hold the ship upright when it takes the ground. In looking at moderately sized, serious offshore yachts, I note two, three, or even four engines aboard. Most owners of single-engine vessels opt for the security of a wing engine, with a generator or two for backup. I suggest that two small engines on Passagemaker Lite could serve as redundant propulsion systems, and be belted or coupled via PTO (power takeoff) to generators. Thus, these two (excluding the dinghy's outboard) would be the sole engines aboard.

The payoff for lighter displacement and a longer waterline is more speed with the same or less power. For example, the Nordhavn 46 crosses oceans at a speed/length ratio of about 1.2, which translates to 7.4 knots. The PL 46 design has a speed/length ratio of 1.2 and travels at 8 knots. And, for the PL 56, it is 8.8 knots. On a long voyage, such as the 2,200 nautical miles from southern California to Hawaii, this can make a difference of days. Two thousand two hundred miles at 7.4 knots is 297 hours, while at 8 knots it is 275 hours, and at 8.8 knots it is 250 hours. The PL 56 would take about two days less than the Nordhavn 46 on the same passage.

To obtain greater speed from the short and fat trawlers, builders are going to ever-larger engines. But, it's expensive to push long, high-displacement hulls fast. It is also true that as displacement/length ratios drop, speed/length can increase. Short heavy boats with a displacement/length of 350 will be limited to a speed/length ratio of about 1.4, maximum. My longer, lighter designs will run up to a speed/length ratio of 1.6 and beyond. This is possible with modest power; the PL 56 will achieve 12 knots with a pair of 105-hp engines; twin 150-hp engines push it up over 14 knots.