Pilot Bay 45
About the Plans
Construction Method and Materials:

Number and Type of Drawings:

Study Plan:

General Arrangement PDF

Study Plan:

Sail Plan PDF

Design Comments:

Design Comments

Base Price:

$ CAD
Similar Designs
Modern Sailing Cruiser

Modern Classic Sail

Small Sailing Cruisers
Extended Comments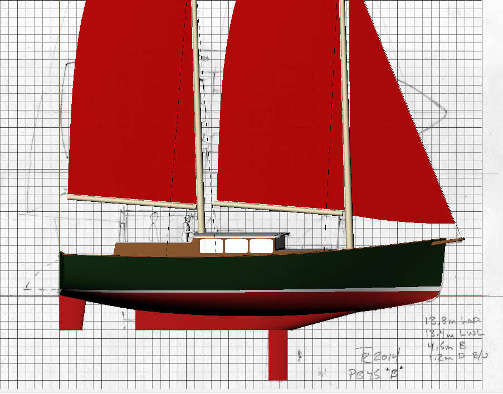 Cedar strip-planking over laminated ring frames, laminated backbone, plywood bulkheads, transom, deck, house. Exterior sheathed with fiberglass set in epoxy. Wooden "birdsmouth" hollow spars. Laminated cedar dagger board. Lead outside ballast.

Every cruising sailboat that visits our bay has stuff all over her deck. Sometimes I cannot recognize what make of boat it is because of all the stuff on the deck. Solar panels, rubber boats, surfboards, kayaks, gas cans, etc, etc….. That is part of the rationale for this new design, try and get some of that stuff off the deck. It's not so much that it's ugly, I'm more concerned that it's difficult to get around on deck, and the stuff sitting out in the weather is taking a beating.

The PB45 is designed as a full time home for up to 3-4 people, and is capable of travelling anywhere including (with proper outfitting) high latitudes. Emphasis was put on including large storage areas and big capacity tankage throughout the design. A large "beach" transom door opens into a huge aft garage, big enough for a rubber boat, bicycles, kayaks and surfboards.

The Pilot Bay 45 is offered in two basic layouts, aft or mid deckhouse, and two basic rigs, schooner or ketch.

The aft cockpit arrangement has a large dining area in the deckhouse, with navigation office to starboard. Down forward there are double and single berths amidships. Forward again is the open galley and a seat/berth next to the heater. Forward of this is the large single head with harbor berths and more storage areas forward. The aft cockpit can be high for maximum storage under, or low for better protection from the elements.

The center cockpit arrangement offers a flush (with opening section) aft deck over the stern garage. There's a watertight bulkhead between the garage and the sleeping cabins forward under the cockpit. There are two sleeping cabins, a double berth to port and two singles to starboard with the chart table. Upstairs in the deckhouse there are raised seats port and starboard, with engine and tanks under the sole. Down forward is the single head to starboard with the galley to port, and a large U shaped seat around the downstairs table. Another watertight bulkhead divides off the foc'sl.

I feel shallow (4'0") draft and the ability to sit upright on her keel opens up a great deal of cruising ground. It also offers better self-sufficiency and a much less damage prone structure.

Either a vertical sliding dagger board or a pivoting centerboard can be used, both have advantages and drawbacks. The dagger board case impinges on the interior, but it's mechanism is simple and drag is minimized with no long slot opening. It will likely be damaged if you strike something. The centerboard is more complex to control and build, with higher drag due to the slot. But it does not intrude into the interior (case is completely below the sole) and can pivot if it strikes something.