Ragsdale Schooner, 36' Steel Twin Keel
About the Plans
Construction Method and Materials:

Steel orgami-type construction. Hull is compound curved at the bow and stern, with a hard chine only amidships, underwater and out of sight.

Number and Type of Drawings:

CAD. Full-size plots. NC cutting files.

Study Plan:

Ragsdale 36 Schooner Sailplan PDF
Extended Comments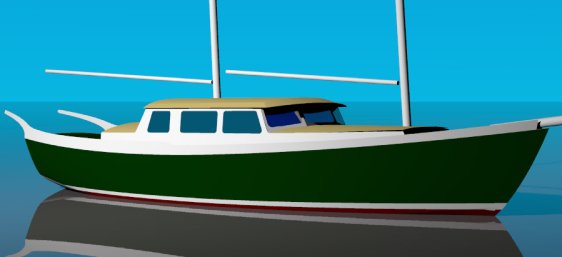 The twin keels are short and shallow for cruising in the Gulf of Mexico. Keels are symmetrical for simplicity of construction, cord at the hull is 10' and 6.5' at the tip, span is 4', thickness 12% (63-0012) at the root and 15% (65-0015) at the tip. Ballast will total about 7000 pounds.

The accommodation includes a main saloon and galley midships, an owner's cabin with double and single berths aft, and a head and guest cabin forward.

The Ragsdale schooner hull is designed to utilize the so-called 'Origami' or folded construction method. This method dispenses with frames or jigs during hull construction, and the final shape of the hull is controlled totally by the edges and several darts in the plating. This construction approach was patented by a Swede, Claes Lundstrom, in 1981. Gary Curtis was licensed to use the method in the US and built several boats, and in Canada Brent Swain has popularized the method.

Each half of the hull, (port and starboard) are laid out flat on the ground, edges are shaped to a pattern and a large dart cut amidships. These plates are then lifted, folded, bent, and tacked together, forming one half of the hull. They are then welded together along the centerline and internal framing and deck are added to finalize the shape.

These hulls generally are compound curved at the bow and stern, with a hard chine only amidships, underwater and out of sight. The major benefit is very fast production of the bare hull, which can be created in a matter of days. Beyond the bare hull, an origami boat takes as long to finish as any other boat. The key to reducing man hours here is to simplify everything, or eliminate it totally.