Christensen Offshore Steel Power Cruisers
Christensen Offshore Steel Power Cruisers
About the Plans
Construction Method and Materials:

Steel.

Number and Type of Drawings:

Drawings are CAD. Full size part plots available at extra cost.

Study Plan:

General Arrangement PDF

Design Comments:

Design Comments

Base Price:

$ CAD
Similar Designs
Steel Powerboats

Sail-Assisted Powerboats

Traditional Motorsailer
Designer's Comments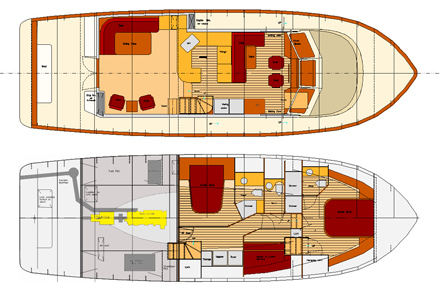 The Christensen 48 and 55 are the first in a line of semi-custom motoryachts built by Christensen Yachts and designed by Tad Roberts. With this series of Offshore Cruisers, Tim Christensen and I have concentrated on creating extremely rugged yachts that will be comfortable and livable cruising either offshore or coastwise.

The term 'Offshore Cruisers' was used more than 35 years ago by Edwin Monk Senior to describe cruising yachts that incorporated heavy, full-displacement hullform, rugged construction and extended range, enabling cruises of 1000 miles or more on an open coastline with few opportunities for shelter.

These cruising realities are the reasoning behind my combining features from motoryachts with those of an offshore passagemaker in the Christensen 48 and 55. Though capable of extended self-sufficiency and ocean crossing, these designs are intended for liveaboard offshore cruising. This means the Christensens' have larger deckhouses, bigger windows, and more open interior layouts than a typical Passagemaker. However, they are not trawler yachts since that term is reserved for lighter displacement coastal cruisers.

In hullform the Christensen Offshore Cruisers are beamy with moderate vee and radius chine sections. This form is roomy, stable, and capable of carrying large loads. To sink the 48 one inch requires 2800 pounds. These are full displacement hulls, optimized for cruising speeds between 8 and 9 knots. Again, this suits their primary use as offshore cruisers; the hulls are aimed at a higher cruising speed rather than ultimate efficiency at ocean crossing speeds of 6-7 knots.

Stability and roll reduction is a major concern for many people contemplating offshore cruising in a powerboat. There are a number of systems to reduce rolling; active fin stabilizers, passive paravanes, bilge keels, and the more exotic flume tanks, gyroscopes, and moving weights. Which system or combination of systems chosen for a particular boat will depend on a number of factors. The major factor will be area and length of planned voyages, along with the desired comfort range expected. The three most popular systems, as mentioned above, will provide varying amounts of roll attenuation. Each system also adds some resistance when the vessel is underway. Active fins and bilge keels add drag all the time, paravanes only add drag when they are deployed.

If I were contemplating for example a trip to Alaska up the inside passage, I would fit small fixed bilge keels. These provide some stabilization underway, but very little when the vessel is anchored. This is okay as the inside passage includes endless protected anchorages. But if you are heading for Panama or South America, I would consider a combination of all three systems. The active fins work very well underway, but need the protection of the bilge keels. The paravanes are a great backup to the active fins, and they work while the boat is anchored.

Ease of access and safety while moving around the vessel are key considerations. High bulwarks with handrails on top around the entire deck aide safe movement while at sea. The standard main deck arrangement for Christensen Offshore Cruisers is an offset main salon with full side deck on the starboard side only. The boats are also available with full side decks Port and Starboard, or with a full width salon and no side decks.

Both yachts also have large outdoor living areas, the flying bridge and covered aft deck. Ease of access between decks is important. The flying bridge is accessible via a stairway from inside the pilothouse, and outside from the after deck. There is room in both these areas for built in seating with cushions and tables for outdoor living.

The Christensen Offshore Cruisers incorporate a motoryacht type deckhouse with large windows all around. For seagoing safety the windows are designed to Lloyd's specifications, and they are glued in thermal panes for heating and cooling efficiency.

The interior arrangement of these boats is centered around daytime use of the main deck and flying bridge areas, with sleeping below deck. The galley is immediately aft of the pilothouse area and only two steps from the inside ladder to the flying bridge. Inside dining can be in the pilothouse or aft in the main saloon. Below the 48 has two double staterooms with double or twin berths, both have on-suite heads with separate showers. The 55 adds a third cabin with upper and lower berths with its own day head.

Both vessels have a below deck utility area adjacent to the galley stairs, this has room for household size laundry and freezer. This area also provides inside access to the standup engineroom through a watertight door fitted with a window. The engine rooms are large, with plenty of room for a workbench and access to all equipment. Both yachts include outside access to the engine room from the afterdeck. Engine room air intake and exhaust is through steel ducts carried well above the main deck and fitted with emergency fire closures. Skin mounted freshwater keel cooling and waterdrop dry-gas exhausts are standard.
Christensen 48 Offshore Steel Power Cruiser Specifications

LOA = 48'
LWL = 45'
Beam = 16' 6"
Draft = 5' 4"
Displacement = 85,000 lbs (1/2 load)
Fuel = 1400 US gal.
Fresh Water = 400 US gal.
Black Water = 100 US gal.
Grey Water = 80 US gal.
Main Engine: John Deere 6068TFM (M2) 175 HP @ 2400 RPM
Reduction Gear: Twin Disc 5061, 3:1 red.
Propeller: 38\u201d dia. four blades
Generator: 9KW
Bow Thruster: 20 HP
Cruising speed: 8 knots = 2500 mile range @ 3.8 gph
9 knots = 1800 mile range @ 5.8 gph
9.4 knots = 1400 mile range @ 7.8 gph
These speeds are at design displacement, with no stabilizers or bilge keels and clean bottom. 200 gal. reserve.
Christensen 55 Offshore Steel Power Cruiser Specifications

LOA = 55'
LWL = 52'
Beam = 17' 6"
Draft = 6'
Displacement = 104,000 lbs (1/2 load)
Fuel = 2000 US gal.
Fresh Water = 400 US gal.
Black Water = 100 US gal.
Grey Water = 100 US gal.
Main Engine: John Deere 6081AFM (M2)
300 HP @ 2200 RPM
Reduction Gear: Twin Disc 5091, 3:1 red.
Propeller: 42\u201d dia. four blades
Generator: 16 KW
Bow Thruster: 25 HP
Cruising speed: 8 knots = 3700 mile range @ 3.9 gph
8.6 knots = 2780 mile range @ 5.6 gph
9.6 knots = 2000 mile range @ 9.0 gph
These speeds are at design displacement, with no stabilizers or bilge keels and clean bottom. 200 gal. reserve.