42' Double-ended Schooner Wild Cat
42' Double-ended Schooner Wild Cat
Extended Comments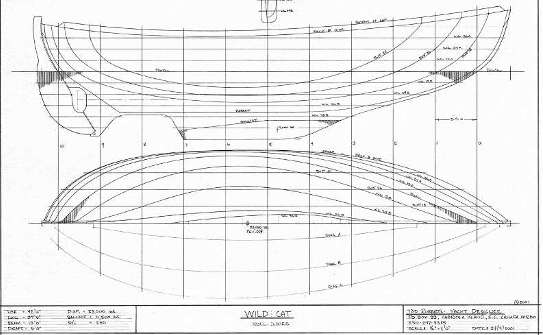 Updated November 2011. The schooner Wild Cat is rigged with a jib-headed mainsail and gaff for'sl, plus fore stay'sl and roller-furling jib on her bowsprit. There are a number of reasons for choosing this rig, but the main one is practical: it offers tremendous versatility with just four working sails. Versatility of sail area and balance in something like 20 different combinations. Under the working rig rolling up the jib would be the first reef, then you would reef the main, then drop the main, then reef the foresail before dropping the staysail to carry only the reefed fore'sl last. A fisherman topsail and main staysail could be set between the masts in light airs.

Ten years after first drawing it the arrangement still makes some sense to me. The two-three person pilothouse looks cozy, the single quarter cabin is a handy off watch berth, the big main saloon with fire and pilot berth, the roomy galley and the quiet double forward all appeal.

I still have hopes that the short NACA foil keel will improve her performance to windward in light/moderate winds. But it remains conjecture until someone builds her.
Wild Cat is one of four sailboat designs created for the article Sailing Cruiser Design -Part 2 PDF published in Wooden Boat #176. Sailing Cruiser Design -Part 1 PDF was published in Wooden Boat #175. From "Sailing Cruiser Design Part 2":

Drawing Wild Cat's lines, with their wonderful symmetry, was a pure pleasure, and it's easy to see how these boats came to captivate people. If I retained Colin Archer's beam/length proportions for Wild Cat, he would come out about 14ft 3in. wide. This would create a nice, roomy interior, but the waterlines would be too full forward, meaning he would be too blunt for good windward performance. Looking at half-angles of entry is an easy way to measure how blunt or fine the bow of a boat is. Measuring the angle between the centreline and waterline at the stem of a Colin Archer rescue vessel gives a result close to 30 degrees. Modern cruisers run somewhere between 18 degrees and 22 degrees; racers are much finer. Wild Cat came out at 22 degrees.