26' Berry Point Outboard Cruiser
Similar Designs
Outboard Cruisers

Skiffs and Speedboats
About the Plans

Construction Method and Materials:

Plywood over a series of plywood bulkheads and longitudinal stringers.

Number and Type of Drawings:

4 sheets of dimensioned bulkhead drawings
Hull Lines drawing  
General Framing drawing  
General Arrangement drawing  
2 sheets of expanded parts drawings with dimensions  
Written general construction sequence .

Study Plan:

Berry Point 26 Study Plan PDF
Design Comments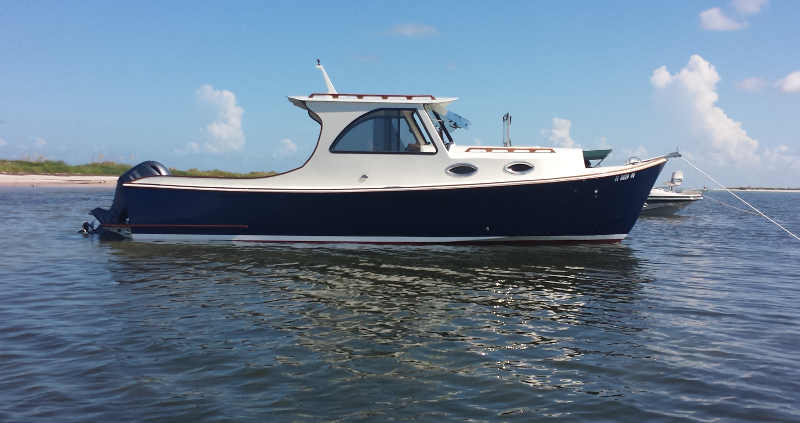 The Berry Point 26 was designed to fulfill a need for a traditionally stylish, trailerable, moderately fast, and capable family cruiser. She had to be shallow draft, economical to operate and simple enough for the experienced home builder or small yard to take on. These criteria originated in a discussion on the WoodenBoat design forum concerning the ideal small powerboat. Numerous hull forms were suggested and discarded as being better at one speed or sea state but too deep or slow or not economical, or just ugly.

After much reflection I realized that the hull form that could meet these seeming conflicting requirements was one I had first done in the early 90's for the Hinckley Picnic boat. This hull is somewhat narrow by current standards, thus vertical height must be controlled and kept to a minimum to reduce the vertical center of gravity (VCG). The deadrise at the transom is 15 degrees, amidships its 19 degrees, and foreword over 50 degrees. This is a very fine entry, and coupled with good freeboard, she will knife through chop cleanly and take on much bigger seas competently.

Construction is plywood over a series of plywood bulkheads and longitudinal stringers. Full Sheet material may be used in most of the bottom and topsides, with areas of compound curvature done with two layers of 3/16". The hull is sheathed with fiberglass.

The narrower form with wide chine flats runs very flat, which is something I favor and which reduces entrance angles and thus drag. To my mind it also produces a very elegant look under way.

For accommodation, there is a double berth forward, small galley and room for a head. Large cockpit with space for more sleepers or chairs and folding table.