Memory 44 Classic Express Motor Yacht
Memory 44 Classic Express
About the Builders - Memory Yachts
Gerry Kidd, Pacific Yachting,

September 2001

This bit of yachting nostalgia, strongly reminiscent of east coast lobster boats of the 1920s, was designed for Memory Yachts of Wilmington North Carolina by TR Design...The new Memory 44 is the fourth Memory design for Memory Yachts. According to Roberts, all four have strong historical ties, economical performance, and, of course, beauty.
Similar Designs
Classic Launch

Express

Lobsteryachts

"Downeast" Cruiser
Designer's Comments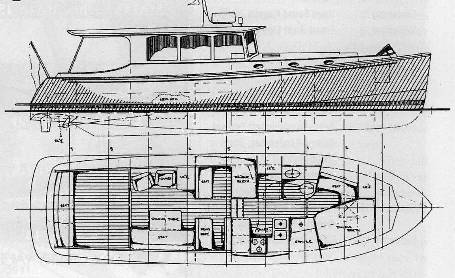 The 44' express design is the fourth boat I have collaborated with Memory Yachts on, first the 38', then the Displacement 43', a 29' Express, and now the new 44 Express. In each case, the exercise has been to create a boat that stands out, that has strong historical ties, economical performance, and is, above all, beautiful from every angle.

The beam is less than that of most contemporary yachts, and this is for a number of reasons. The first is the historical context. Twelve feet of beam would have been considered only a little fat for a 44' boat in the 1920's. Moderate beam means the entry can be kept fine, so the boat is easily driven, and less beam means less weight, another plus for economy. Long narrow hulls do not experience the trimming problems associated with short, wide forms, so this boat will maintain it's elegant look at any speed.

Her bottom is a modern modified-V, with deadrise decreasing from 23 degrees amidships to 12 degrees at the transom. I have used shallow propeller pockets to reduce draft, and the hull incorporates a molded keel for running gear protection. She is designed to be most efficient at semi-displacement speeds, with the standard power of twin 260 hp Cummins 6BTA 5.9M engines, cruising speed will be in the neighborhood of 17 knots and top speed will be 21 knots.

The hull and deck are molded fiberglass, the interior layout and bulkhead placement are owner's choice. She is intended as a coastal cruiser with good accommodation for two over long periods, and there is room for two occasional guests. Her deckhouse is a wonderful place to be, with large opening windows on all four sides and double doors opening onto the covered aft cockpit. These are windows you can see out of, close to vertical and under good roof overhangs, not highly stylized tinted slits. From the aft cockpit the transom drops open on centerline to form a "beach" at the waterline.

There is good space for dining and lounging in the deckhouse. Two steps down forward is the galley. A guest cabin with double berth and lockers is opposite. Next forward are the separate head and shower, port and starboard respectively, and in the bow is the master stateroom. This cabin is the full beam of the boat, has seating, lockers, a double berth, and best of all, access to the private forward cockpit.

The timeless and sensible features of the Memory 44 work well together. She will be comfortable along shore in all weather, and "stand out" beautiful in any harbor.