61' Wooden DeFever Trawler Rebuild
Testimonials
Tad was a fantastic resource as I rebuilt Island Eagle, my 60 foot trawler. His artistry at the drawing board combined with a lifetime of practical boating experience provided the perfect catalyst for producing a wonderful vessel. Without a doubt, his participation in the project was a worthwhile investment which resulted in a project superior in every way to what it would have been without his guidance. Were I to undertake a similar project in the future, I would not hesitate to hire Tad again.

Scott Welch, Island Eagle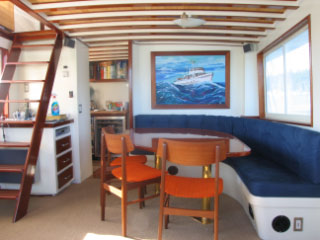 Overview: Island Eagle Rebuild Project
LOA: 61'0"
Beam: 15'0"
Draft: 6'0"
Power: GM 6-110 220 hp at 1800rpm
Construction: Honduras Mahogany planking on sawn Oak frames with Monel fastenings
Builder: Del Boyce, San Diego 1962
Bare hull never launched, converted to a yacht by Art DeFever and launched 1964 for Joseph Coberly
Owner's Web Site: www.islandeagle.net

61' DeFever wooden trawler Island Eagle (original name) began as a spec-built fishboat hull; never launched, she was converted to a yacht and extensively cruised in Southern Califorina and Mexico by a long series of owners. Interestingly, she was at one time owned by one of the Mauricio family, owners' of the yard which built 62' Wooden Motor Yacht Vaquero, whose refit we have also been involved in.

When Scott Welch bought her 40 years on, Island Eagle's arrangement, furniture and equipment were (amazingly) almost completely original. The interior needed updating, especially the pilothouse, galley and saloon, and owner's cabin. And, almost all the systems needed to be replaced. A new generator was installed, the electrical system changed over from 32 to 24 volts and the boat was completely re-wired and re-plumbed. One my first jobs was to design a new mast, which became two masts, boom and paravane stabilizer system. After almost 3 years of re-building, Island Eagle is again ready for family cruising, starting with exploration of the BC coast and expanding southward towards Panama.